Takai Seat – 2 and 3 seater sofa
The crisp geometric shape with chamfered arm detail on this lovely piece of furniture makes it the perfect piece of furniture for the office, hospitality, leisure and contract situation. Takai is upholstered in beautiful 95% wool and a 100% Polyester fabric. The main body of the piece is complemented by the matching plaid fabric on the internal sides and back. If you need a piece of furniture that offers privacy for a meeting or phone call, then it has to be Takai. Available as an arm chair, two seater sofa and three seater sofa in three different colourways, shown here in option A.
Option A
Main Body:
Inside Back & Side Panels:

Option B
Main Body:
Inside Back & Side Panels:

Option C
Main Body:
Inside Back & Side Panels: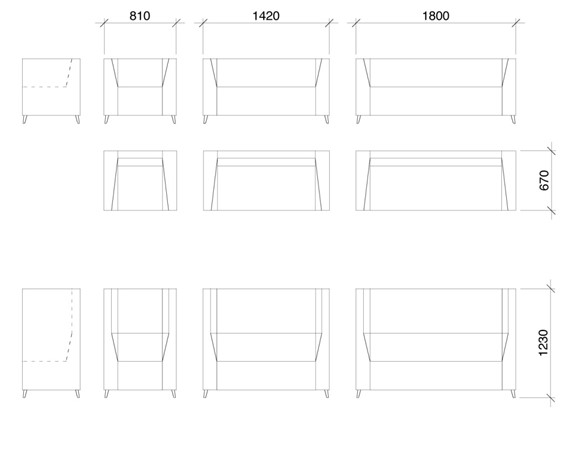 Measurements:



Armchair: W810mm x D670mm x H1230mm
2 seater sofa: W1420mm x D670mm x H1230mm
3 seater sofa: W1800mm x D670mm x H1230mm
Product Specification:
Main Body Fabric Specification: 
Composition:
95% Pure New Wool, 5% Nylon
Flame retardancy:
BS EN 1021 – 1 and 2:2006 Ignition Sources 0 and 1, and BS5882:2006: Section 4: Ignition Source 5.
Also satisfies the requirements of BS7176: 2007: Meduim Hazard category, direct testing route, when used in combination with a standand CMHR 35kg/m polyurethane foam.
This does not preclude passes over different types or densities of foam.
Passes Crib 5
Abrasion:
Martindale, BS 2543:2004 BS EN
14465:2003 Annex A, 50,000 cycles
Cleaning Instructions:
Regular maintenance greatly extends the useful life of a fabric. Ask for details of cleaning recommendations or consult a professional cleaning organisation.
Inside back and side panel fabric:
Composition:
100% Polyester with FR coating
Flame retardancy:
BS5852: 2006 Ignition Source 5
BS7176: Medium Hazard
EN1021 – ½
IMO – FTP 2010 PART 8 (previously A.652 (16))
NFPA 260 (USA)
B1 (Germany)
Abrasion:
Martindale, 110,000 Wyzenbeek 90,000
Cleaning Instructions:
Vacuum or wipe clean routinely with a microfibre cloth lightly dampened with cold water only.
Most stains can be removed by wiping clean if tackled immediately.
Microfibre cleaning cloths are extremely effective without soap, which is helpful as soap can clog your fabric.
Soak up spillages as soon as possible with an absorbent dry cloth to prevent staining. Clean with microfiber cloth, lightly dampened with cold water.
Do not used solvent based cleaners or other chemicals to the fabric.
If soiling has been allowed to build up use mild water based proprietary cleaner. Take care to remove any product residues as these hinder the fabrics performance.
Do not steam clean, dry clean, fully immerse in water or tumble dry.
Further details and certificates for all fabrics are available on request
Leg Frame:
Rod leg, bright chrome
Bespoke Options Available
If you would like something that is a little more bespoke or something completely different, then we are happy to oblige. On our main website you will see many examples of our bespoke work. Please contact us with your requirements. Bespoke furniture will be priced accordingly. 
Price each:
High Back Armchair: £648.00
High Back 2 seater sofa: £972.00
High Back 3 seater sofa: £1110.00 
Prices quoted are excluding VAT
Delivery charges apply