Full Home Renovation for a Residential Home in Berkshire
The property had originally been built in the 1960's. There had been extensions and a conservatory added over time which had made the internal space disjointed and difficult to define any particular area. The kitchen was at the front of the house and a utility room had been added which meant that the front door accessed through the utility room. A new front door had been added at the side of the property by way of a small porch but did not have the benefit of any heating or insulation. It also opened into a very narrow space, making it difficult to use. All of the original walls had been left in when the various extensions had been added.
The clients were open to a radical transformation of the property inside and out and were happy to accept our proposals for the interior layout.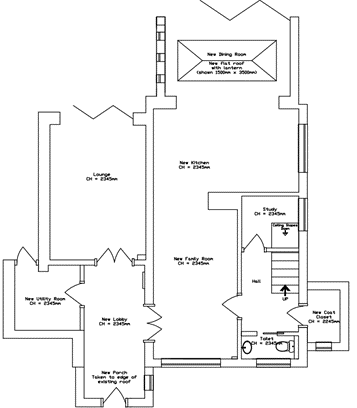 The conservatory was knocked down and a new layout designed. An entrance porch was added to the front of the property as well as an orangery with a lantern roof added to the back.
Moving the kitchen to the back of the property meant that the orangery could become the dining/entertaining space that the clients wanted. With the relocation of other walls and doors, a 'grown up' lounge was created from an old extension and a family breakout space created in the old kitchen space.
We still have some finishing, so there will be more images to come.
We engaged Koubou to help us with our house renovation and from the very first call, all the way through to the end of the project, their help has been invaluable. Not only were they able to provide incredible advice, based on their wealth of experience but they also helped to smooth the process by managing all the stakeholders involved.
This made things far simpler for us.
Hiccups inevitably happen on a project of this scale but they either preempted them, or reacted incredibly quickly when they were unavoidable, providing us with a great deal of reassurance. In addition to their project management skills, they designed incredible spaces based around our needs, then used their design flair to make them truly stand out.
We couldn't be happier with the job they've done. We'd engage them again in a heartbeat, not only because they saved us both money and potential stress but they are genuinely great at their jobs! Experienced, knowledgeable and friendly with it and always willing to go above and beyond for their clients.